Jerome Alacre is a housemate in Pinoy Big Brother Lucky 7
Biography:
Edit
Jerome Alacre is a 32-year old Overseas Filipino Worker from San Francisco, California. Born and raised in a slum community in Tondo, Manila, Alacre currently worked as an assistant director of nursing and travelling nurse in a medical facility.[37] At 11, Jerome helped his grandmother in their business in Divisoria selling children's wear. He became a scholar afterwards of the Charity First Foundation and pursued his dream job of being a nurse.
He is the oldest housemate in Adult Edition.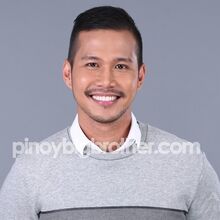 Ad blocker interference detected!
Wikia is a free-to-use site that makes money from advertising. We have a modified experience for viewers using ad blockers

Wikia is not accessible if you've made further modifications. Remove the custom ad blocker rule(s) and the page will load as expected.